<!Side Spacer>

---
Weekly Traditional Milongas
(This is the normal schedule. Check the websites of each milonga for changes and special events!)
Day
Milonga Details
Location
Cost (student)
FRI (ALL)
9:30pm-1am - Milonga Sin Nombre -

At The Movement ~ 1255 WEST Morena Blvd
Home of the SDTF All Night Milonga
$10 ($5)
SAT (ALL)
9pm-2am - "Nocturna" Hosted by Linda Garwood
Dance for 2 - 7528 Clairemont Mesa Blvd *special events may be extra
$12 ($8)*
Monthly Traditional Milongas
Day
Milonga Details
Location
Cost (student)
Mon (3rd)
8pm to 12 pm - "Milonga Recuerdo" - hosted by Eduardo
- Centro Cultural de la Raza, 2004 Park Blvd.
$12
WED (2nd)
8:00pm to 10:30pm - La Milonga Del Barrio - Hosts & DJs Carole & Christian
Normal Heights Community Center, 4649 Hawley Blvd, San Diego, CA. 92116
$10
SUN (1st&3rd)
8pm to 11pm - "Toca Tango" - hosted by Florentino and Krista
North County Dance Arts, 12750 Carmel Country Road, Suite 103, 92130
$10
SUN (2nd)
6pm to 10pm - "Sundays with Colette" - hosted by Colette Hebert
SD Woman's Club - 2557 3rd Ave, San Diego
$20
---
Practicas
---
Nuevo Milongas
(This is the normal schedule. Check each milonga's website for changes and special events!)
| Day | Milonga Details | Location | Cost (student) |
| --- | --- | --- | --- |
| THU (ALL) | 9:00pm to 12:00am - Tangralaa - Nuevo Music Milonga | Dance North County - 535 Encinitas BLVD | $10 |
Additionally El Mundo Del Tango has milongas and practicas several days of the week. Check their schedule for an updated listing.
---
Recommended Central San Diego
Group Classes:

Tango Resources:

Favorite Marathons and Festivals
---
<!Middle Spacer>
Recommended San Diego
Group Classes: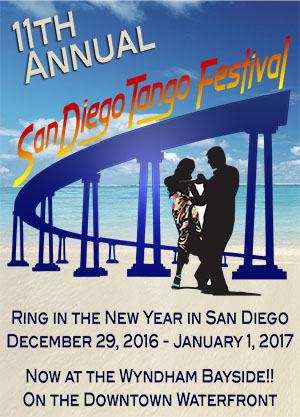 Don't Miss The 13th Annual San Diego Tango Festival
December 28th, 2018 - January 1st, 2019!
Now in a NEW, bigger, downtown location! Close to great restaurants and mass transit!
Tango San Diego sponsored by:

Tango Addicts' Milonga
LAST Sundays in North Park


Milonga Sin Nombre
Every Friday - NOW at 9:30pm

<!Side Spacer>